Last Push for Funding Financial Assistance:  Donations Still Needed by December 31st Deadline
Donations to the Mississippi Valley School Tuition Organization (MVSTO) are still needed.  The deadline to receive the tax benefits for 2020 is December 31st.
The MVSTO provides tuition assistance to more than 620 students in Scott County.  In 2019-20, that figure represented about 35% of all students, and JFK had 36% of its K-8 students receiving financial assistance.  The need only increased in 2020, and no one really knows what 2021-22 will bring.
In order to provide the level of financial assistance needed each year, donations are also needed each year.  Donations to the MVSTO are unique in that they benefit both students and donors.  Students receive the financial assistance needed by their families so they can attend Catholic/private schools, and donors receive a 65% tax CREDIT, not deduction, off of their Iowa taxes, AND the other 35% is a charitable deduction on their federal taxes.  A $500 donation to the MVSTO, for example, allows one to reduce one's Iowa tax bill by $325, and, at the 32% federal income tax bracket, one might be able to reduce one's tax bill by about $56.  If you follow the math, a student receives the $500 benefit in financial assistance while the donor has a net cost of, not $500, but only $119!
Donations for this year's taxes must be made by December 31st.  Act now!  Use the following link for more information and the forms needed:  https://www.mvsto.org/
Mississippi Valley School
Tuition Organization (MVSTO)
Help Us Keep Scott County Students in Catholic Schools
MVSTO is providing tuition assistance to 627 Scott County K-12 Catholic School students this year, including 8 participants in Assumption's basketball program, 50 fifth graders attending one of our 4 Catholic elementary schools, and 12 members of the AHS Choir.
 
MVSTO has recorded $221,000 in increased gifts and pledges over the past week. We had a good week, but we're running out of runway! There is still a need to raise an additional $245,500 to reach our state allowed cap of $1,324,143 by December 31.  If you have given in the past, you know how tax efficient this gift is, and we need your help again.
Everyone Wins! Iowa taxpayers contributing to Mississippi Valley School Tuition Organization (MVSTO) receive an Iowa tax credit equal to 65% of their contribution.

The remaining 35% is eligible to be deducted from the donor's federal tax return. The MVSTO remains the most generous tax credit in the State of Iowa! Please check out our video for an explanation of the gift.
| | |
| --- | --- |
| Everyone Wins When You Give to MVSTO! | HELP SCOTT COUNTY STUDENTS TODAY! |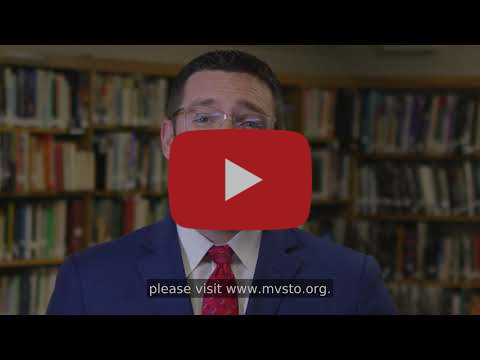 What is the Mississippi Valley School Tuition Organization (MVSTO)
and how does it work? Watch this short video to find out more.
Civic Oration Finalists
Watching civic oration speeches last week was a little weird.  Due to our COVID-19 mitigation practices for social distancing and to make a level playing field for students going into and out of remote learning, all 5th-8th graders submitted their speeches on video.  I was able to get into some 6th-8th grade classes while they watched speeches.  I am always amazed at civic oration, and this year was no different.  Students adapted to this new presentation method quite well.  Next year, if we can be back to normal, we'll change things up a little bit too with civic oration and begin to add in some visual aspects, such as a few PowerPoint type slides.  It's rare for people to give speeches without a few slides these days, and we'll have civic oration evolve in that direction too.
Congratulations to the following students, listed in no particular order in their category, whose videos are advancing to the final round of competition.  For the final round of competition, speeches will be judged by outside-the-building guests.  Students compete in two divisions:  5th/6th grades and 7th/8th grades.  We do not expect to have results until mid-January.
Finalists in 5th grade:  Alison J., Peyton W., Natalie S., Hailey E., Noah F., and Priya K.
Finalists in 6th grade:  Quinn C., Rachel A., Payten P., Julia M., Ava S., and Maggie A.
Finalists in 7th grade:  Olivia F., Brooklyn M., Adam W., Aubrey R., Barbie K., and Ben A.
Finalists in 8th grade:  Lucy N., Dru D., Jacey M., Amalie Y., Seamus D., Braeden M.
COVID Data
Below is a link to a .pdf file that shows several graphs of Scott County and JFK data.  We did make two adjustments that updated some data points back to about November 24th for the JFK specific data.  I've also changed intervals on a couple of graphs so we can continue them better into the future.  To originally illustrate how fast things can change, I had used some daily data points, for example.  Some of these will be changed to the Tuesday and Friday data points that are used with some of the other graphs.  Scott County graphs reflect the data shared at our Wednesday meetings with the health department.  The time of day when the health department pulls its data can also make a difference in the numbers.  We did not have a meeting on December 23rd so our next update with the health department will be December 30th.
I'll add a few comments below as well.
One of our big discussions on 12/16 with the health department was regarding vaccinations.  Educators are in in group 1-B, and speculation was that they would be able to receive vaccination in February-March.  Students, however, are way after that time period, and there's not even a vaccination yet approved for those under 16 years old.  That means that mitigation efforts like mask wearing, social distancing, contact tracing and quarantining, etc. will continue all school year.  Schools and school districts will also need to continue with remote learning options, intermittent whole class or building shut downs, and hybrid educational models throughout the rest of the school year.
At JFK, we have also begun speculating about next year.  With budgeting beginning for next year, we're trying to make decisions about what will be needed in the fall.  Will we need Zoom accounts for teachers?  Will we need to purchase additional online storage for recorded Zoom sessions of instruction as we've done for this year?  Can we afford to maintain a 1 to 1 student to Chromebook/tablet ratio in all of K-8?  (One time federal funding helped us get there.)  What will enrollment look like?
Upcoming Dates
See the school calendar on our website regarding ECLC over the break.
Jan 4:  School starts again
Jan 14:  Parent University via Zoom.  Topic:  Screen time (How fitting?!)
Jan 18:  Martin Luther King Day, no classes.
Jan 21:  Home & School
Jan 29:  End of 2nd Quarter
Jan 30 – Feb 6:  Catholic Schools Week
Catholic Schools Week
Almost all of our normal Catholic Schools Week activities involved large gatherings that just won't be possible this year.  Along with themed attire each day, below are some of our ideas:
Movie day with candy suckers
Bingo day
Pizza and Virtual Field Trip Day
Minute to Win It Day
Class Act (recorded) and Ice Cream Day
Stay Well
I hope you had an enjoyable Christmas holiday.  It was, indeed, different than normal, but we were able to make ours special anyway.  On to New Year's!
Chad